Spaghetti Alla Nerano

5 mins
|
25 mins
|
Serves 4

Spaghetti alla Nerano is a recipe we revisit often when zucchinis are abundant during summer. Don't be fooled by the simple ingredient list—this pasta is packed full of flavour and is a joy to eat on a sunny day.

This recipe is modelled off Stanley Tucci's who first ate Spaghetti alla Nerano in a cliff-side restaurant on the Sorrento peninsula in Italy. He declared it one of the best things he's eaten and begged the chef to show him how to make it.

After you make it yourself, you'll have a new-found appreciation for the humble zucchini...and Stanley Tucci.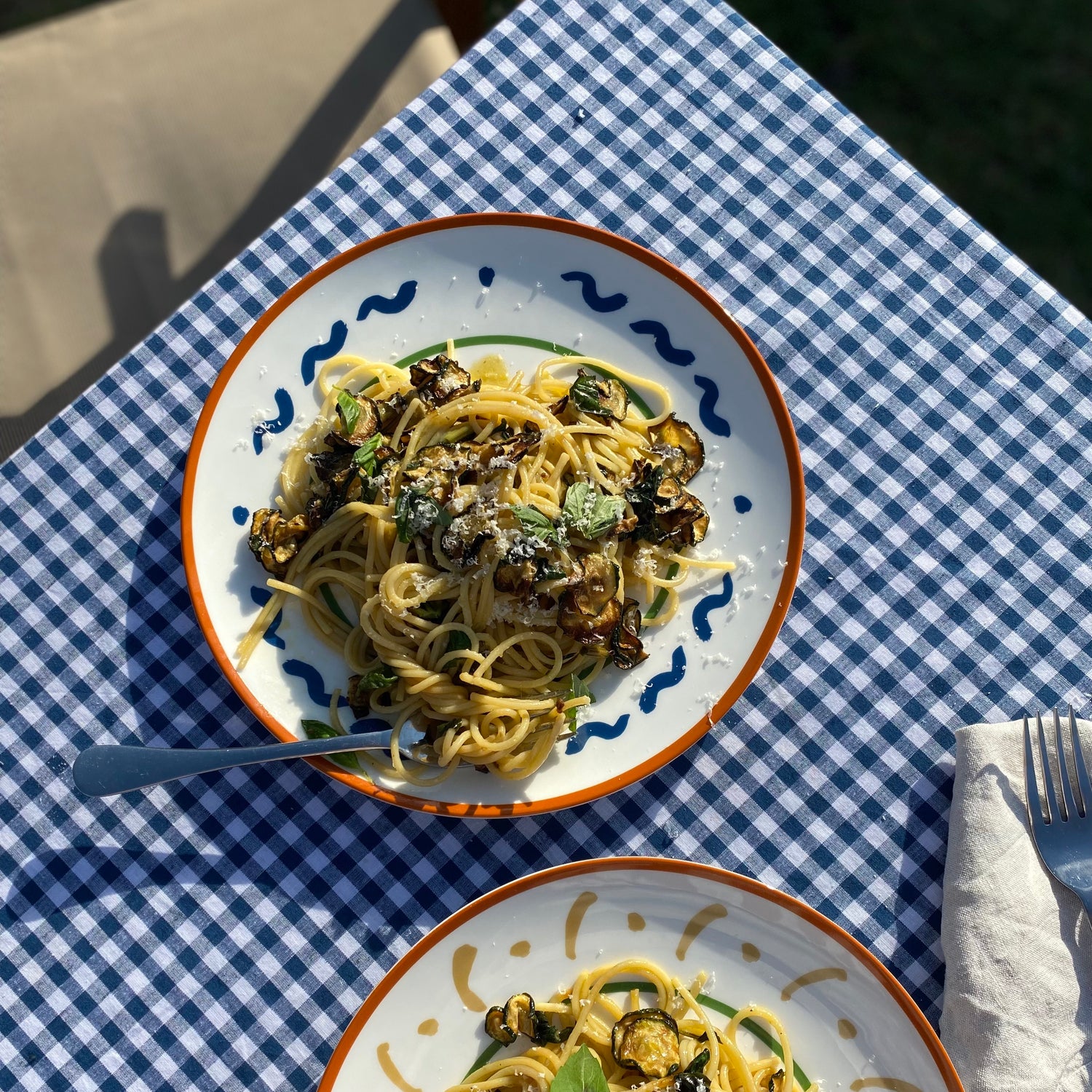 Ingredients
8 small zucchini, finely sliced
1 bunch basil, roughly chopped
500g dried spaghetti
1.5 cups Parmigiano Reggiano, freshly grated
Vegetable oil, for frying
Extra Virgin Olive Oil
Salt & Pepper
Steps
To prepare, simply wash and finely slice the zucchini into thin rounds using a mandolin. Roughly chop the basil.
Heat vegetable oil in a large pan to medium-high, and fry the zucchini in batches until golden brown. As each batch is ready, transfer to a plate with paper towel to soak up excess frying oil. Then pop your zucchini into a bowl, sprinkling with sea salt flakes and basil as you go. This process can take a little time, so a glass of vino (or a Negroni in true Tucci style) is a wonderful idea.
Once you have finished the last batch of zucchini, sprinkle with the remaining basil and dress liberally with good-quality Italian extra virgin olive oil.
Bring a large pot of water to the boil, and cook the spaghetti until just before al dente, reserving a big cup of starchy pasta water.
Place the cooked pasta in a large pan on low heat, add the zucchini basil mix and combine gently. Add a little of the pasta water at a time to create a creamy texture. Add about half of the Parmigiano and continue to toss together gently. When the pasta has a slight creaminess, remove from the stove and serve immediately. Sprinkle with the remaining Parmigiano should your heart desire.