Alice Zaslavsky's Fennel & Tomato Panzanella with Homemade Ricotta

1 hour
|
20 mins
|
Serves 4 as a side
"The number one tip for any recipe – particularly one that's so seasonal, is to seek out the best produce you can. Tomatoes are so glorious in summer, and the knobbier they are the better. Follow your nose – aroma is super important, as is the vibrancy of the tomato's glossy skin, whether that's bright crimson, or a deeper shade of plum." - Alice Zaslavsky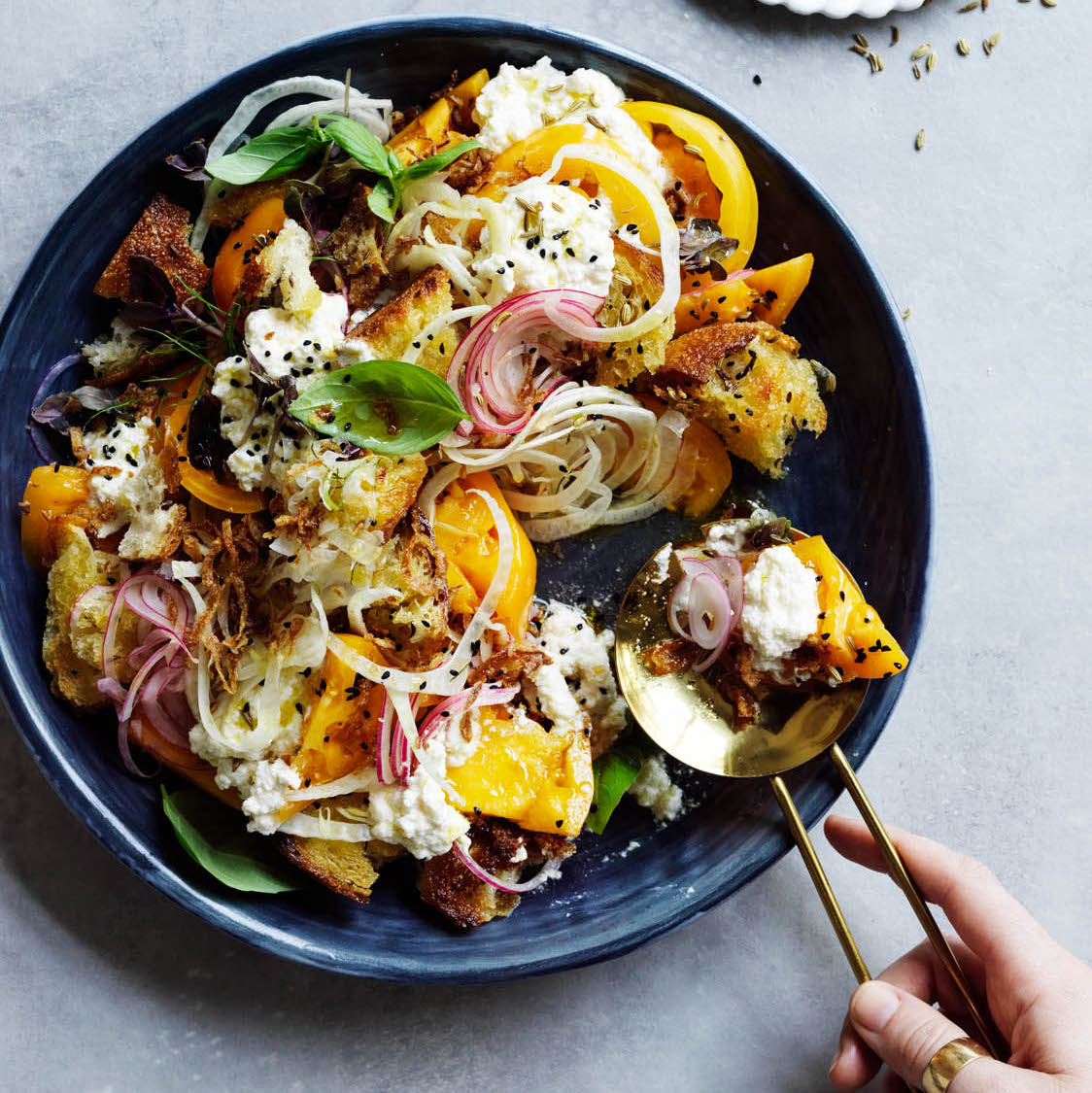 Ingredients
FOR THE SALAD
-1 small fennel bulb, fronds picked and reserved
-1 red onion, thinly sliced into rounds
-500g heirloom tomatoes, cut into large chunks
-60ml extra virgin olive oil, plus extra for drizzling
-60ml red wine vinegar
-150g sourdough bread, torn
-3 tablespoons crispy fried shallots, roughly chopped
-1 teaspoon caraway seeds
-1 teaspoon sesame seeds
-1 teaspoon nigella seeds
-Holy basil or green or purple basil, to serve
FOR THE RICOTTA
-2 teaspoons fennel seeds
-1 litre milk, the best quality you can find
-2 tablespoons lemon juice
Steps
To make the ricotta, use a mortar and pestle to grind the fennel seeds into a fairly fine powder. Add to a saucepan along with the milk. Place over medium heat and bring to the boil. Stir in the lemon juice, then as soon as you see the mixture begin to split, remove from the heat and set aside for 30 minutes to curdle.
Line a sieve or colander with muslin (cheesecloth) or a clean cloth. Strain the mixture through the sieve to separate the curds from the whey. Reserve the whey for your next batch of pancakes or vegetable soup!
Place the sieve over a large bowl and leave in the fridge for 1 hour to drain and cool completely
Meanwhile, cut the fennel bulb in half lengthways, then use a mandoline to thinly slice the fennel halves on the cut side. Place in a bowl of iced water.
Toss the onion, tomatoes and vinegar in a bowl.
Heat the olive oil in a frying pan over high heat. Add the bread chunks and cook, stirring for 4-5 minutes, or until golden. Add the shallot flakes and the caraway, sesame and nigella seeds, and cook for 1-2 minutes, or until fragrant.
To serve, drain the fennel and toss with the tomato mixture. Arrange on a platter and crumble the ricotta over. Scatter with the crispy spiced bread mixture, fennel fronds and basil, and finish with a final drizzle of olive oil.