Linguine with 'Nduja, Pipis and Pangrattato

Author - Gabrielle Simonian from @_noregrettispaghetti

A riff on a much loved classic alle vongole using 'nduja, a Calabrian spicy salami paste and local pipis. It's fresh, zesty and packs a gentle punch.

Find more delicious recipes by Gabrielle via her website.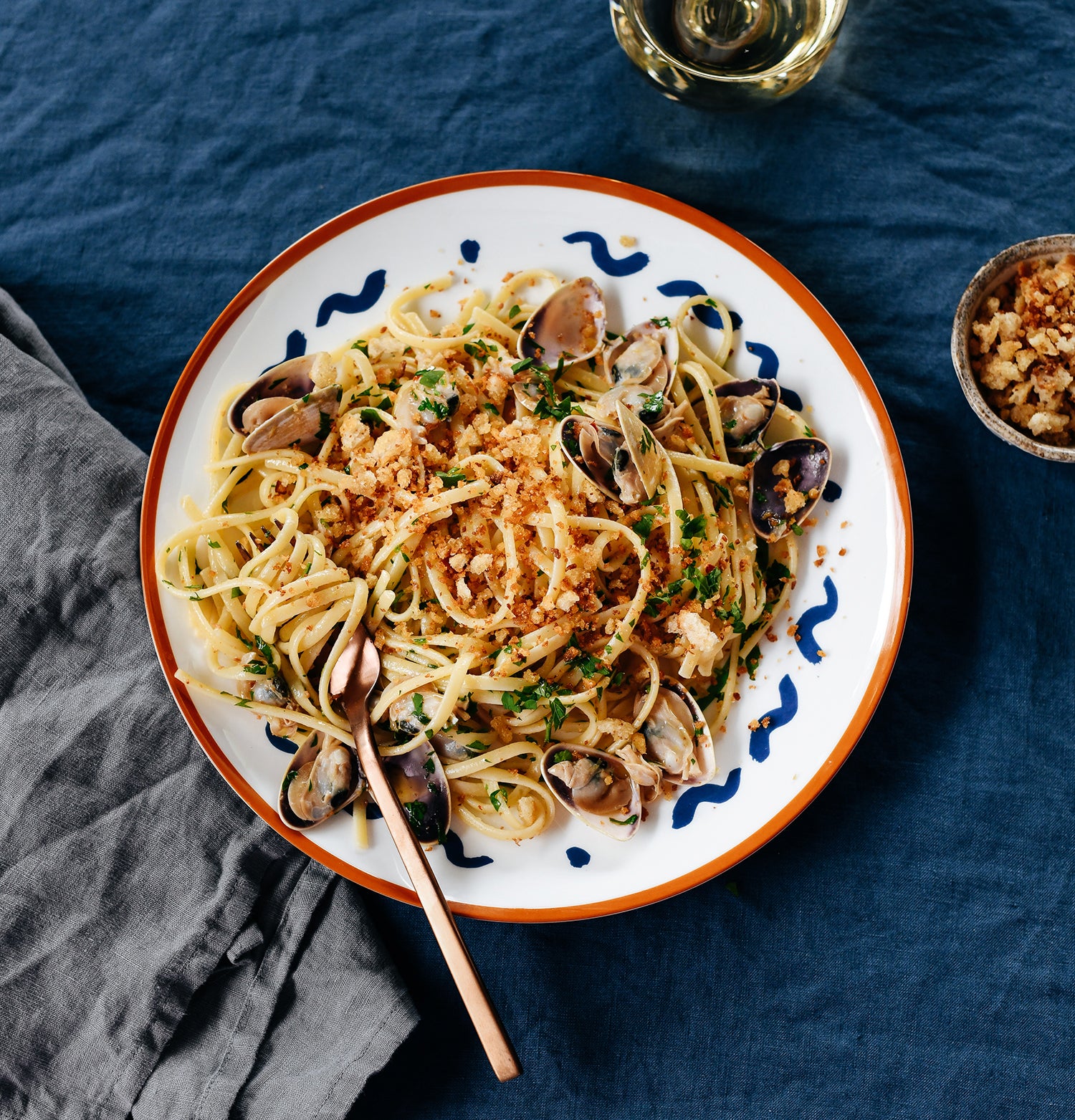 Ingredients
150g day old bread
4 tablespoons extra virgin olive oil
1kg pipis
400g linguine
1 heaped tablespoon 'nduja (depending how hot or mild the 'nduja is, add more or reduce the amount to taste)
3 garlic cloves, finely sliced
Zest of 1 lemon
½ cupdry white wine
Large handful flat leaf parsley, roughly chopped
Steps
FOR THE PANGRATTATO: Tear the bread into rough pieces and add to a food processor, pulsing until you have a rough crumb. If you don't have old, hard bread, simply put your bread into a hot oven for a few minutes first to harden.
Heat 2 tbsp of olive oil in a frying pan and once hot, add the breadcrumbs and cook until golden and crispy.
Remove from the heat and set aside on a plate so as to not continue cooking.
PREPARING THE PIPIS: Place the pipis in a large bowl of cool water and sea salt (30g of salt per litre of water), and leave them to soak for at least an hour, changing the water every 30 minutes until there's no sand or grit at the bottom of the bowl. Drain off any liquid before proceeding.
Place the pipis in a large saucepan and cook gently over a medium heat. Place a lid on the saucepan for the first few minutes to speed up the process, but I like to remove the lid to keep an eye on the ones that open so I can pick them out as soon as they do. Discard any unopened pipis.
Place the cooked pipis in a bowl and allow to cool slightly before picking the meat out from the majority of them and set aside. Reserve 20 pipis whole in their shells (purely for decoration!).
FOR THE LINGUINE: Bring a large pot of water to boil. Salt generously and add the linguine - cook for a minute less than packet instructions or until suitably al dente.
Meanwhile, in a large frying pan heat the remaining olive oil and add the 'nduja. Cook for a couple of minutes until the paste starts to break down, then add the sliced garlic.
When everything is fragrant, add lemon zest and the pipis (meat and whole pipis), before pouring in the white wine to reduce, then remove from the heat.
Once cooked, use tongs to drop the linguine directly into the pipis, taking with it splashes of its cooking water. Add a drizzle of olive oil, a squeeze of lemon and the chopped parsley, and toss to combine and coat the linguine in all of the sauce. Add pasta water as needed.
Divide between four bowls and serve with pangrattato.