French Onion Soup

15 MINS
|
1.5 HOURS
|
SERVES 4

This decadent soup is a delicious wintery treat that will transport you right to your favourite Parisian bistro—our personal favourites are Bistro Guillaume, Entrecôte, Bistro Thierry, and France-Soir in Melbourne.

This recipe doesn't involve a shopping list's worth of items, but it does take some patience, and perhaps some tears, to prepare all the onions and to cook them slowly to achieve a rich and dark caramelisation.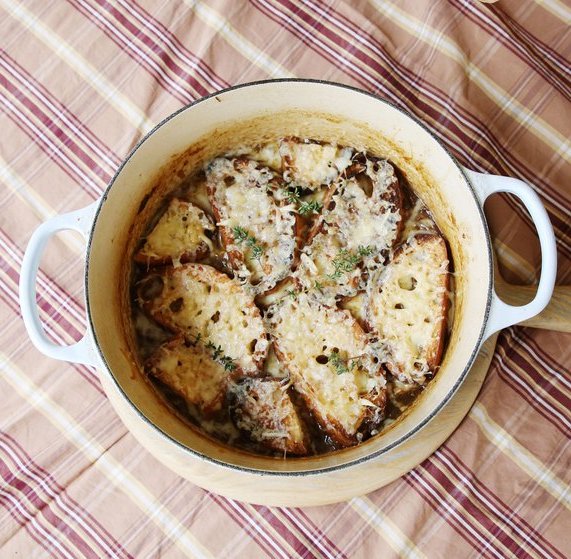 Ingredients
100g butter
1.5kg brown onions, sliced thinly
1.5L beef stock
3 bay leaves
5 sprigs of thyme
Splash of white wine or apple cider vinegar
Baguette or ciabatta
200g Gruyère cheese, grated with a large box grater
Steps
In a large oven-safe pot, melt the butter over low heat. Add all of the onions and stir to coat them in the butter. Cover with a lid and stir intermittently until the onions are soft and translucent (around 20 minutes).
Remove the lid and turn the heat up to a medium. Continue cooking the onions for another 20 minutes until they caramelise and become a darker brown, stirring occasionally.
Once they have browned, add a splash of wine or vinegar to deglaze any bits of onion that have stuck to the pan, letting it bubble before stirring.
Add ½ a cup of stock and let it simmer until it's mostly absorbed. Repeat this step three more times, then add the remaining stock. Let the soup simmer for around 10 minutes until it reduces slightly and then season with salt and pepper to taste.
In the meantime, turn the oven onto its grill setting and move the oven rack close to the top part of the oven. Slice the bread into 1cm slices and toast it under the grill for a few minutes on each side. Grills can be temperamental so keep a close eye on it so the bread doesn't burn!
Take the soup off the heat—if it has reduced too much, add some more water or stock to loosen it. Sprinkle half of the cheese over the top, then layer the toasted bread to cover the surface. Sprinkle the remaining cheese over the bread.
Move the oven rack to a lower setting so that the pot can fit into the oven. Grill for around 5 minutes until the cheese had melted and turned golden.
Dig around the bread, scooping the soup up into bowls laying a cheesy crouton on top. Bon appetit!