Tuna Crudo with Green Olive and Pistachio

10 mins
|
5 mins
|
serves 2-4

A recipe that exudes freshness — which is exactly what Miriam Al-Noah's cooking is all about. 

Day to day, Mim works as a Brand & Content Manager but in her downtime she hosts dinner parties whenever she can. And if she's not doing that then she's traversing regional Victoria scoping out local produce and new restaurants. 

For Mim, its equal parts the taste of the food but also the experience around it — the handmade ceramics she uses to decorate tables, the stories behind the dinnerware she uses, how she presents dishes, down to the playlist she makes just for that particular evening. You can follow her @mealswithmim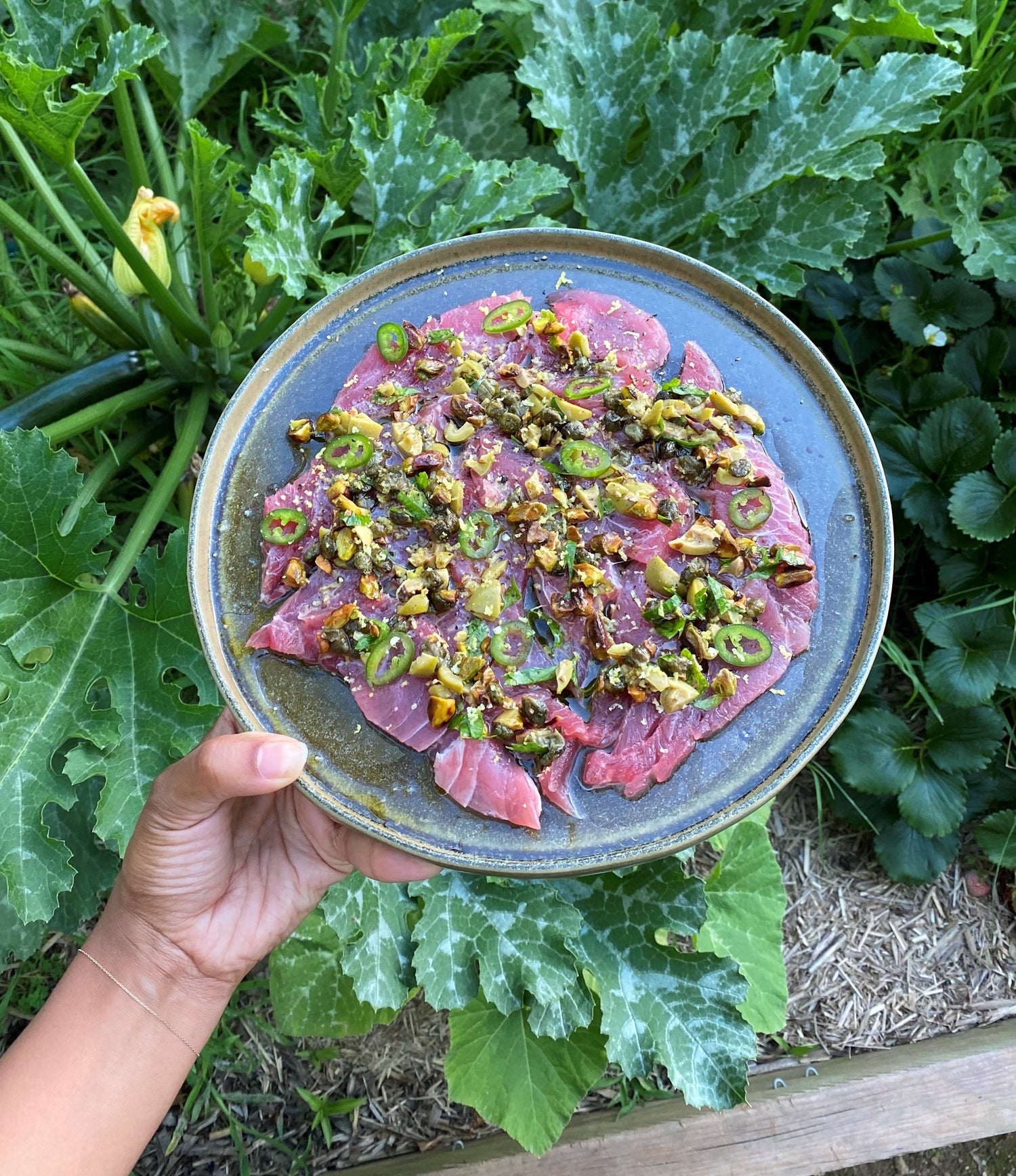 Ingredients
8 green olives
2 tbsp pistachios
2 tbsp extra virgin olive oil, plus extra for frying capers
Splash of white white vinegar
juice and zest of half a lemon
1 tbsp capers
1 green chilli
small handful parsley
1 fillet of fresh tuna, approx. 200-300g (keep refrigerated until the very last minute)
Steps
Begin by toasting your pistachios in a saucepan, then chop roughly.
Follow by frying your capers until crispy in a dash of olive oil. Set capers and pistachios aside to cool.
Roughly chop / tear green olives and place into a small bowl with olive oil, vinegar and lemon juice.
Roughly chop parsley and add to same bowl, along with pistachios and capers. Season with salt and pepper, and extra lemon juice if needed.
Slice chilli finely, only a few slices are required as a garnish.
Take the tuna out of the fridge and slice against the grain. Arrange pieces on a large plate.
Scatter green olive mix over the sliced tuna, finish by topping with lemon zest, chilli slices and extra pepper.