Andrew McConnell's Tuna Tartare with Crushed Peas

10 mins
|
15 mins
|
Serves 4 as an entree
A classic from Cumulus Inc, this recipe by Andrew McConnell continues to find its way back on the menu — but now you can make it at home.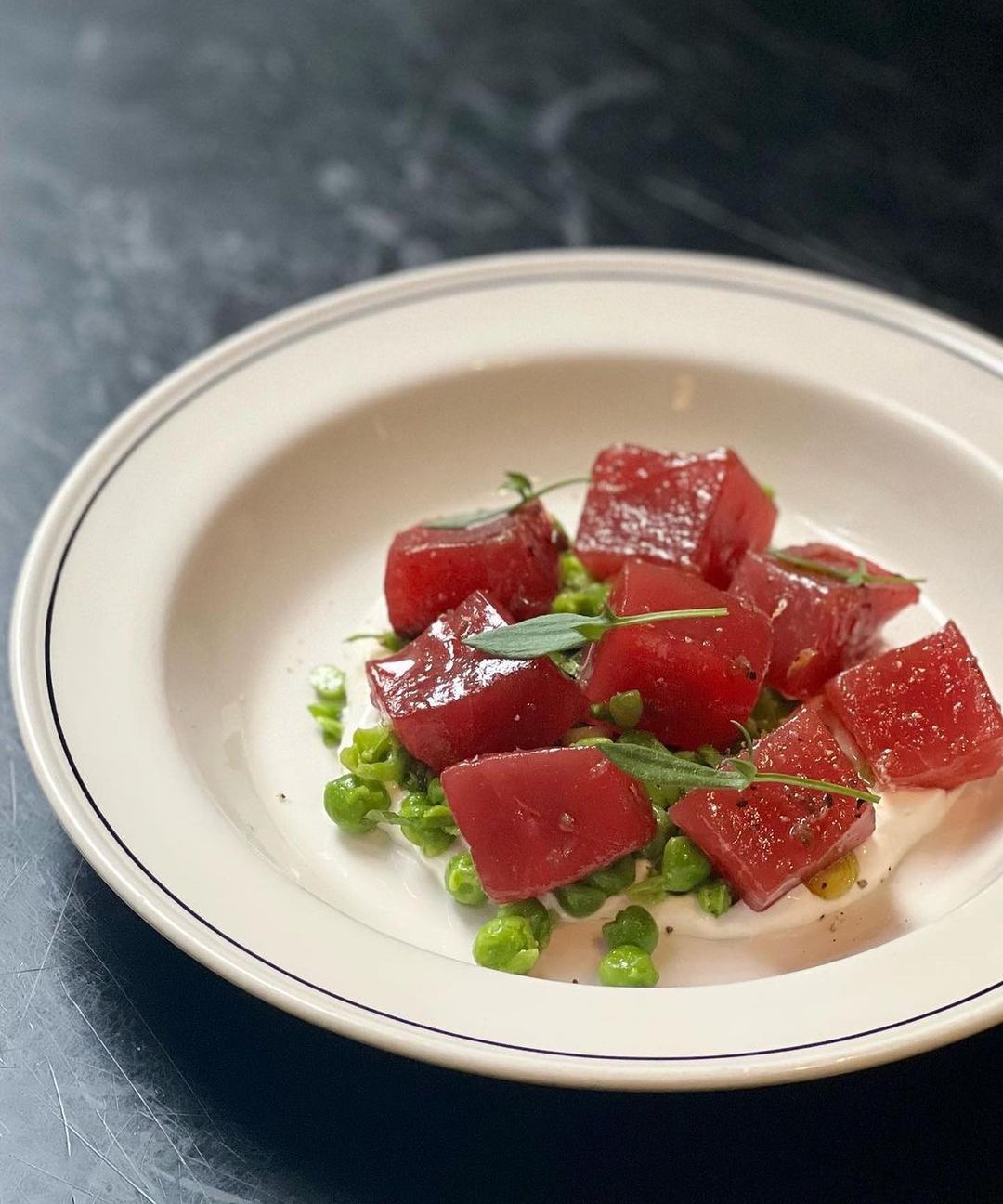 Ingredients
½ clove garlic
1 anchovy fillet
1 tbsp light soy sauce
Pinch caster sugar
2 tbsp olive oil
1 tsp balsamic vinegar
Zest of ¼ of a lemon
250 g sashimi grade tuna
FOR THE CRUSHED PEAS:
1 cup blanched peas
3 tbsp extra virgin olive oil
1 tbsp lemon juice
1 golden shallot, finely diced
20 mint leaves, shredded
Salt and white pepper
3 tbsp goat's curd
8 Pea shoot tendrils
Steps
Crush the garlic clove and anchovy fillet in a mortar and pestle, and transfer to a medium sized mixing bowl. Add the soy, pinch of sugar, 2 tbsp of olive oil, balsamic vinegar and lemon zest, mix together with a whisk.
Dice the tuna into even 1 cm pieces and place in the bowl with the dressing. Leave in the fridge for 15 minutes to marinate, gently stirring occasionally.
Meanwhile make the pea salad. Place the peas in the mortar and pestle and crush gently. Transfer the crushed peas to another bowl add the extra virgin olive oil, lemon juice, shallots and mint leaves. Season the peas with salt and white pepper.
To serve, take the goat's curd and divide evenly onto four entrée plates, with the back of a spoon spread the curd out to a 5cm long rectangle. Arrange the dressed peas over the curd.
Season the tuna with a pinch of salt, and using a slotted spoon remove the tuna from the marinade and carefully arrange over the crushed peas. Dress the plate with a few pea tendrils.