Stella's Spanakopita Spiral

15m Prep
|
15m Cook
|
Serves 6

Eating spanakopita always puts a smile on my face. This spanakopita spiral particularly does as the recipe belongs to my dearest friend Stella. With her Lebanese and my Croatian heritage, food inevitably brought us together many moons ago. Stella recently made this dish (amongst many others including the most amazing fish kibbeh) for a dinner party, and it is one of my happiest memories sitting in her kitchen, drinking wine, chatting and watching her prepare her spiral. I hope making this spanakopita with your friends or family also puts a smile on your face.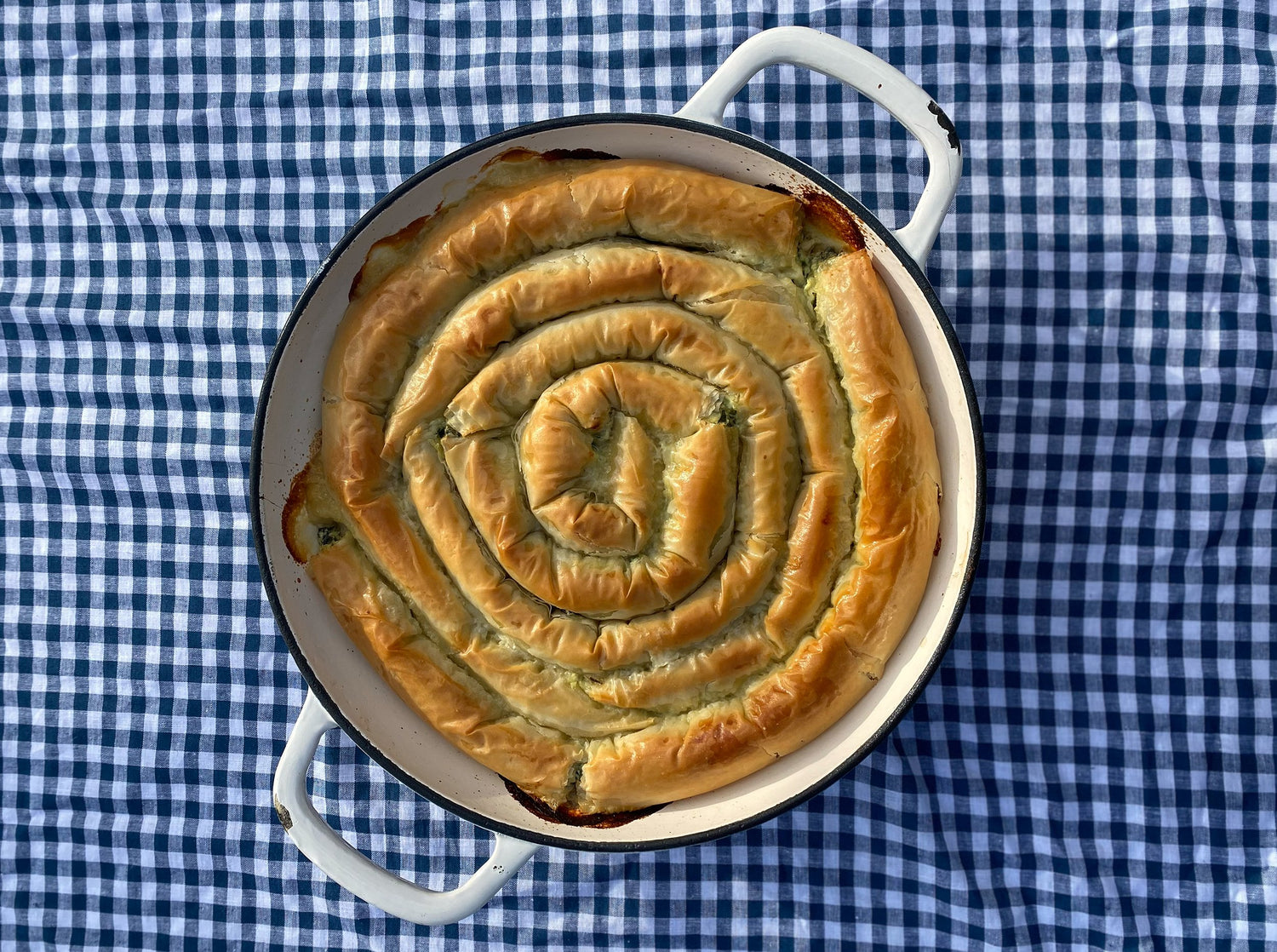 Ingredients
Filo pastry (about 1½ packets)
1 bunch silverbeet, white stalks removed, leaves chopped
1 handful english spinach, leaves chopped 1½ blocks Australian feta, crumbled 1 ½ blocks Danish feta, cru
1½ blocks Australian feta, crumbled
1 ½ blocks Danish feta, crumbled
500-600g fresh ricotta 100g cheddar, grated
20-30 basil leaves, chopped
½ bunch parsley, chopped
1 egg
Black pepper
Butter
Extra virgin olive oil
Steps
Preheat your oven to 180 degrees.
Heat butter and olive oil on low and set aside once melted.
Clear your bench - set up your bowl of mixture lay out filo pastry and have your large round dish melted butter and pastry brush close by. Keep a damp tea towel handy for placing over your pastry as you work - this keeps the pastry from drying out and then cracking as you bend to shape.
Butter your dish
Put one sheet of filo flat on the bench dab around the edges and with butter and layer another sheet on top. About 8cm from the bottom, place a line of your silverbeet/cheese mixture horizontally from left to right like a sausage. You want your sausage to be not too fat not too thin - about 3cm in width.
Take the bottom and slowly roll up to form a log - giving a light brush of the butter mix along the length to seal at the end. Now this first log requires a delicate touch. Take your time to gently curl your log into a tight spiral or snail-like shape and position in the center of your baking dish.
Repeat steps 8 -10 placing your logs as closely and tightly together as possible, until the mixture is finished or the pan is full.
Brush top with butter mix and bake for 40 mins or until golden brown.
Serve straight away with Greek salad and tzatziki.