Gnocco Fritto with Prosciutto and Hot Honey

15 Mins
|
15 Mins
|
Makes 20 pieces

An appetiser suitable for any season, gnocco fritto is as adaptable as it is delicious. We've topped ours with Prosciutto di San Daniele and homemade hot honey.
As the dough fries, it puffs up into little golden pillows and only takes mere seconds to cook. Allow them to cool slightly and serve warm with a selection of cured meats, pickles, and olives for a dinner party snack.
We like to contrast the salty prosciutto with the heat and sweetness of hot honey drizzled on top of the crispy gnocco. It's a sensory delight.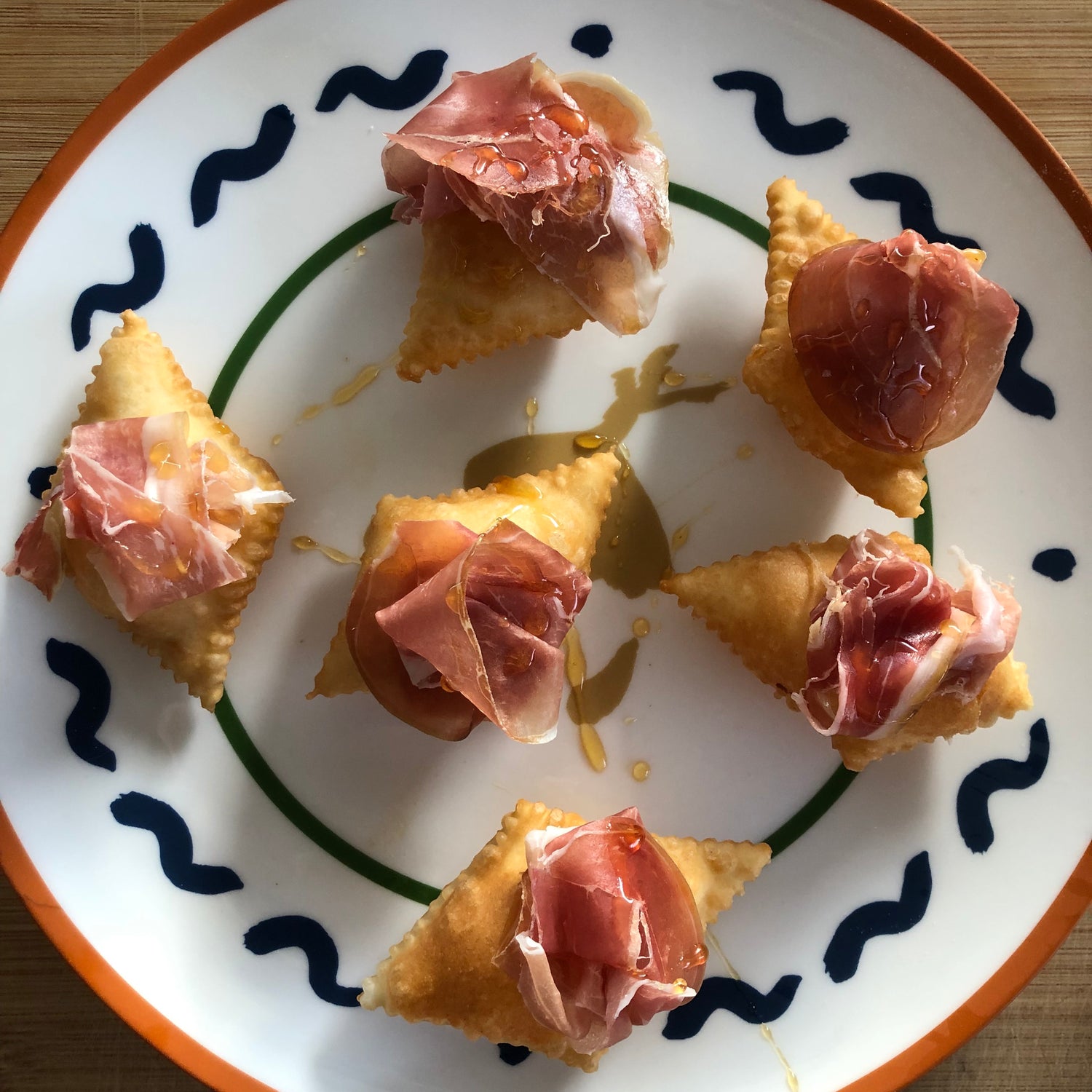 Ingredients
1 sachet of dried yeast (7g)
150ml whole milk
1 tbsp butter, softened
250g plain flour
Canola or vegetable oil, for deep frying
150g thinly sliced prosciutto
Hot honey to serve
Steps
Over a low flame, gently warm the milk on the stove until it is just lukewarm, not hot. If it is too hot, it will kill the yeast. If you accidentally take it too far, just allow the milk to cool for a moment. Whisk in the dried yeast.
Place the flour into a large bowl and create a well in the middle. Pour the milk and yeast mixture into the centre, add the butter and season with salt. Combine and knead for around 4 minutes until soft and smooth. Place back into the bowl and cover with a tea towel, letting it rise for 2 hours until doubled in size.
Lightly knock the air out of the risen dough and tip it onto a floured surface. Divide it into four smaller pieces and roll with a rolling pin, leaving the other pieces covered by the bowl overturned. Pass the dough through a pasta machine, gradually going from setting 0 to 2. You can also roll it by hand until its around 2mm thick. Using a ravioli cutter or knife, cut the dough into even squares or diamonds, around 5cm long.
Heat the oil in a small saucepan until it reached around 180C. Fry up to 4 gnocco at a time until puffed and golden - it should only take around 20-30 seconds each side. Drain on paper towel.
Top with a piece of prosciutto and drizzle with honey. Serve with olives, pickles and a glass of wine.