Spaghetti Puttanesca

5 mins
|
15 mins
|
serves 2

"Puttanesca is one of my favourite pasta dishes, not just because I love the intensity of flavours – it's a kick, punch and pow of umami, chilli, briny goodness – but because of the mere comfort of it. The sauce comes together with pantry essentials (all of which will always be in my pantry). For me, there's a lot of reassurance knowing this dish is always waiting for me, ready to be thrown together in mere minutes." - Elizabeth Hewson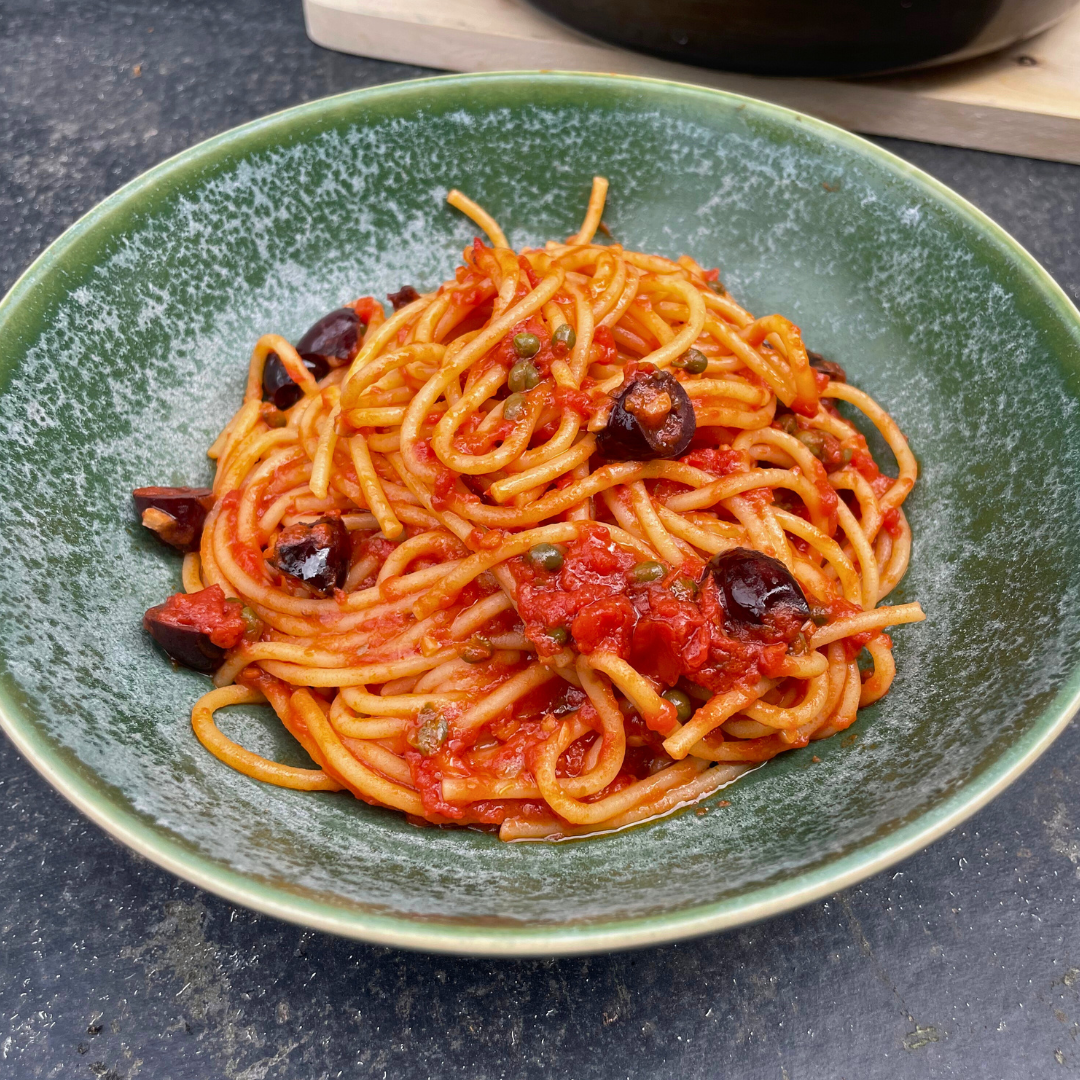 Ingredients
- 200g dried spaghetti
- 1 tbsp olive oil
- 6 anchovy fillets
- 1/2 long red chilli, finely chopped
- 3 cloves garlic, finely chopped
- 3 tbsp baby capers
- 60g pitted black olives, chopped
- 3 oregano sprigs, leaves picked
- 400g tin tomatoes
- Zest of a lemon
Steps
In a frying pan over low heat, add 1 tbsp olive oil and the anchovy fillets and slowly sauté for about 1 minute, or until the anchovies start to dissolve. Add the garlic and chilli and sauté for another minute — you want to soften the garlic, but take care not to burn it. Add the capers and olives and sauté for 2 minutes — the smell should be intoxicating. Add tomatoes and cook the sauce for a 10-15 minutes, until reduced and thickened.
While your sauce is cooking, bring a large saucepan of water to a lively boil and season moderately (you have plenty of salt in the sauce). Add the pasta and cook until molto al dente (very al dente), reserving 125ml of the cooking water. We're going to finish the pasta in the sauce so ensure it still has that all-important bite.
Using tongs, transfer your cooked pasta directly to the sauce, along with the oregano leaves and lemon zest. Toss everything together with a firm hand. If the sauce needs further loosening, add a splash of the pasta cooking water. Cook, stirring, for about 1 minute until everything is nicely combined, then remove from the heat.