Guillaume Brahimi's Tarte Tatin with Crème Anglaise

10 MINS
|
1 HR 30 MIN
|
SERVES 8
A classic from one of Australia's most revered French chefs, Guillaume Brahimi. His top tip is to really pack the apples in tightly – every time you think you have enough apple, try squeeze another one in! This way you end up with a beautiful balance between the buttery pastry and sweet apples.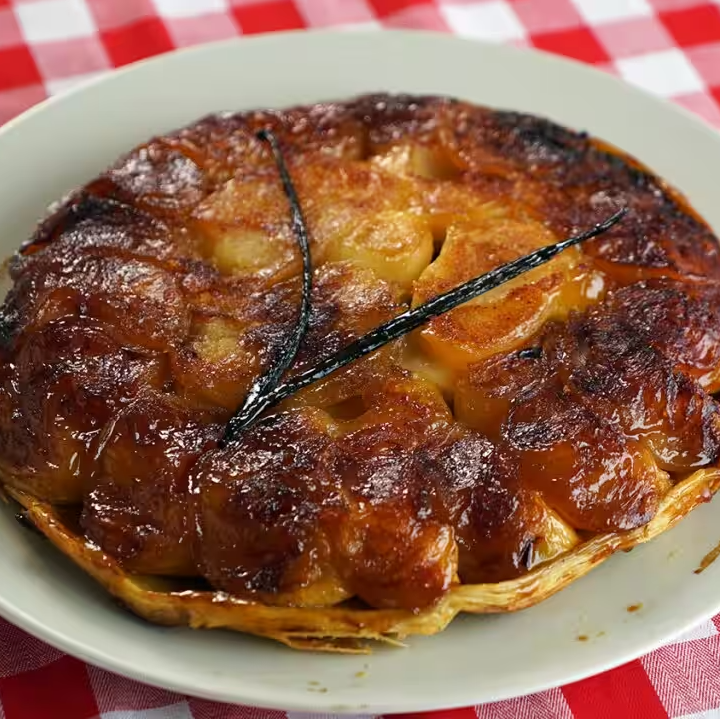 Ingredients
- 10 pink lady or granny smith apples, peeled
- 250g caster sugar
- 100g butter
- 1 vanilla bean, split and seeds scraped
- 300g puff pastry
FOR THE CREME ANGLAISE:
- 300ml milk
- 300ml cream
- 3 Vanilla beans (split and scraped)
- 6 Egg yolks
- 90g of sugar
Steps
Quarter the apples, then using a melon baller, remove the core, tip and bottom from each. Scatter the sugar in an oven proof saucepan, layer in the chopped butter and place the vanilla bean in. Layer in the apples very tightly so they fill the saucepan then cook over medium heat until it becomes a dark caramel and the apples have softened. About 40 minutes. Place in the fridge to cool before topping with the pastry.
Preheat oven to 200°C. Place a sheet of puff pastry over the apple, gently pushing pastry between the apples and edges of the pan.
Using a small, sharp knife, cut 2 slits in the middle of the Tarte Tatin to allow some steam to escape. Place frypan over high heat. When caramel starts to bubble, remove pan from heat and transfer to the oven. Bake the Tarte Tatin for 35 minutes or until golden brown.
To make the crème anglaise, place the milk and cream in a pan and place on high heat, add the split and scraped vanilla beans and bring to boil.
Whilst the milk and cream is coming to the boil, place the eggs and sugar in a bowl and whisk, once the milk has boiled, pour onto the eggs and sugar, then whisk.
Return the mix to the pan and cook over a low heat stirring continuously. Once the sauce coats the back of a wooden spoon, remove from heat and strain through a fine.
When the tart pastry is golden brown, remove from the oven and let stand for 15 minutes, before carefully flipping over onto a serving plate. Serve with crème anglaise.