Silvia Colloca's Carciofi Ripieni Al Forno

20 mins
|
30 mins
|
SERVES 4-6

"It is always exciting when artichokes come into season. Their presence heralds the beginning of spring, with all the spoils this time of year brings."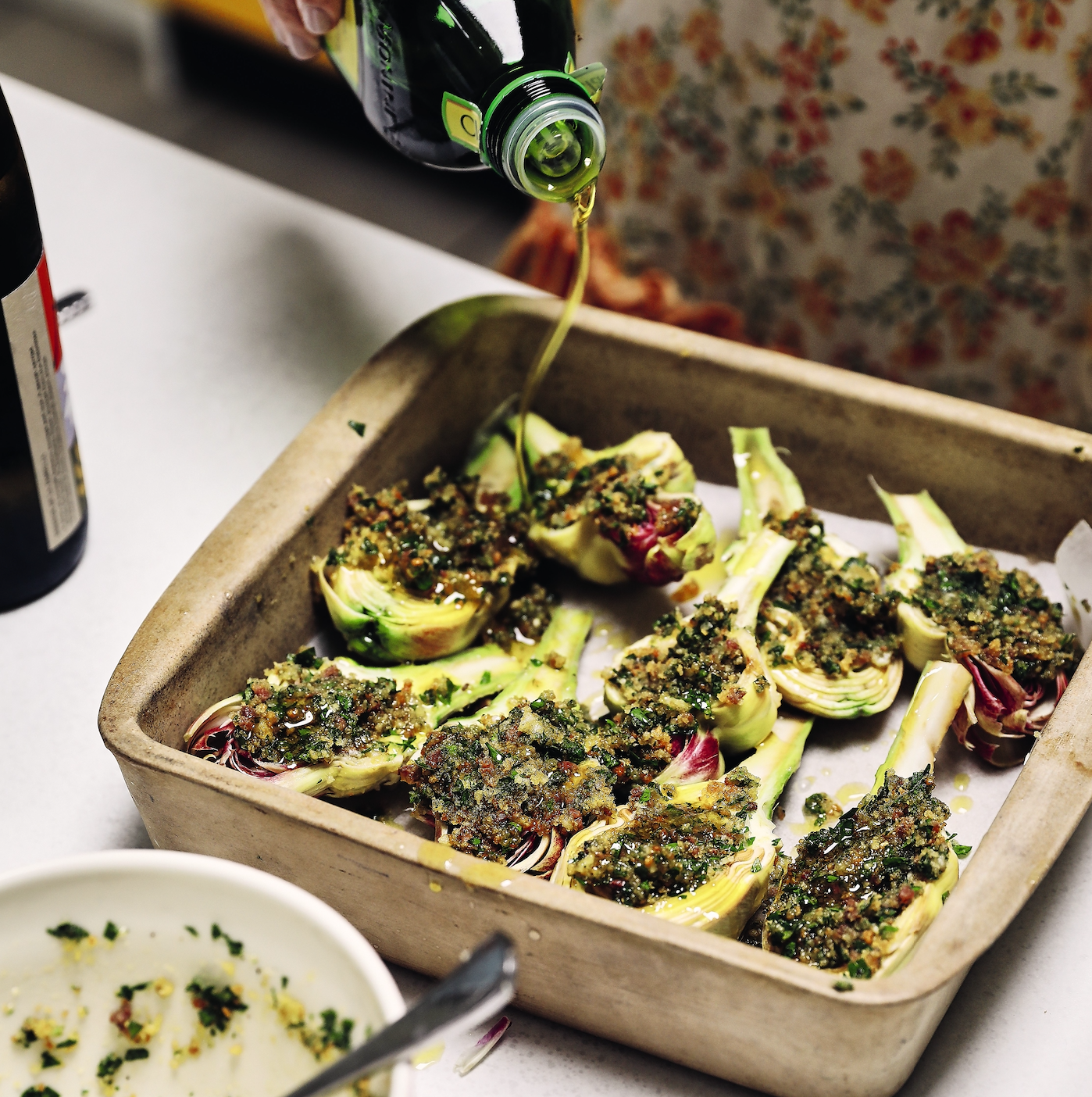 Ingredients
100g dried breadcrumbs
4-5 anchovy fillets in olive oil, drained and chopped
45g freshly grated pecorino
1/3 cup finely chopped mint leaves
1/3 cup finely chopped flat leaf parsley
2-3 garlic cloves, finely chopped
115ml extra-virgin olive oil
salt flakes and freshly ground black pepper
8 large globe artichokes, prepared
125ml dry white wine
Steps
PREPARING THE ARTICHOKES: Working with one artichoke at a time, wash well, then trim the stalk and peel off the tough outer leaves, but keep a ring of pale green leaves around the yellow-green heart so the the artichoke does not fall apart. Chop off any thorns and peel the stalk. Cut in half lengthways and immediately drizzle with lemon juice to prevent discolouration or rub the cut surface with a lemon half. Scoop out the choke (beard) with a teaspoon to create a cavity. (If you buy the baby artichokes available at the start of the season, they barely have any choke to remove.) Drop the artichoke into a large bowl of acidulated water (water with the juice of 1 lemon squeezed into it).
Preheat your oven to 200C. Line a baking dish just large enough to snugly fit the artichokes with baking paper.
Combine the breadcrumbs, anchovies, pecorino, herbs, garlic 2 tablespoons of the olive oil and some salt and pepper in a bowl and mix well.
Gently prise the leaves on each artichoke half apart with your fingers, then divide the breadcrumb mixture between the leaves and cavity.
Place the artichoke halves, cut-side up, in the dish. Drizzle the remaining olive oil over the top, pour on the wine and 125ml of water. Bake for 30-35 minutes or until the artichokes are golden, crunchy and fork tender. Serve hot or at room temperature.