Silvia Colloca's Pizza Margherita

10 mins (plus 8.5 hour resting)
|
15 mins
|
Makes 2 large pizzas

A classic pizza margherita is an earthly pleasure. One that is disarming in its simplicity and always leaves you coming back for more.

This is the recipe is featured in our

latest poster

made in collaboration with one of Italy's finest exports

Silvia Colloca

.

We promise this will become your new go-to recipe for at-home pizza nights. It create a gorgeously crisp base and flavoursome dough from its 8-hour ferment (best to start this recipe the night before or early in the morning).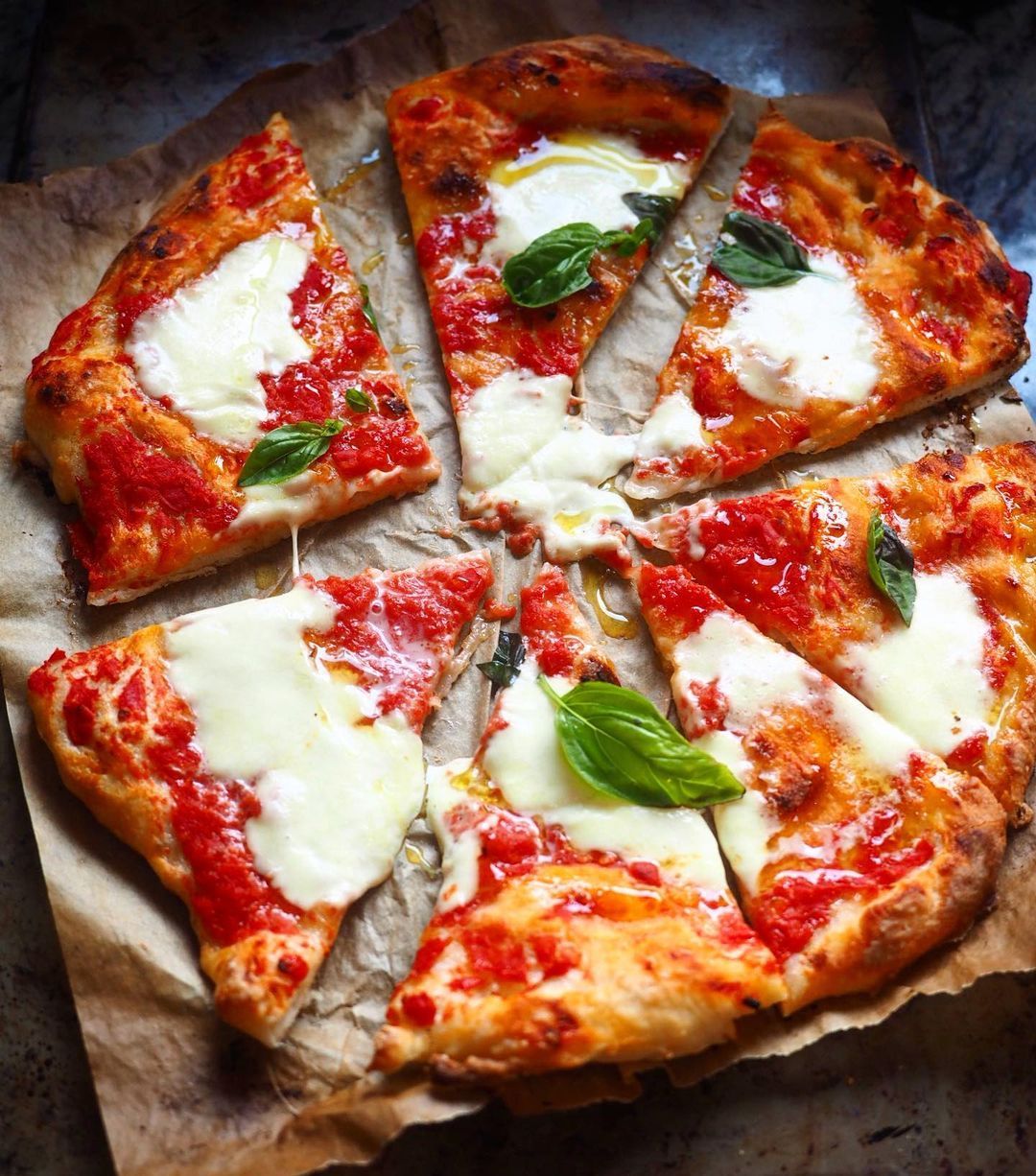 Ingredients
1 tsp dry yeast
300ml lukewarm water
450g '00' flour
3 tsp salt flakesExtra-virgin olive oilFOR THE TOPPING:
1 tin good-quality chopped tomatoes
Fresh mozzarella
Extra-virgin olive oil
A bunch of fresh basil
Steps
Mix the yeast and water in a bowl and stand for a few minutes to froth up.
Tip the flour into a large bowl, add the water mixture and mix until a dough comes together. Add the salt and knead softly to incorporate. Knead on a lightly floured surface for 5–7 minutes or until smooth (you can use a stand mixer fitted with a dough hook for this).
Shape the dough into a ball, place it in a bowl and drizzle a little olive oil on top to prevent a crust forming. Cover with a damp tea towel and rest at room temperature for 30 minutes. After this time the dough will feel very relaxed and smooth.
Using floured hands, stretch the dough into a rectangle, then fold the top and bottom thirds into the centre and then onto itself into a ball. Cover with a damp tea towel and prove for 6-8 hours or until doubled in size.
The dough is now ready to be rolled into your favourite shape. Line an oven tray with baking paper and carefully slide your rolled dough onto it. Top with tin tomatoes, salt and olive oil. Bake in a preheated oven at 220°C for 15 minutes or until pale golden.
Add torn mozzarella and bake for a further 5 minutes. Finish with basil and a drizzle of olive oil.