Baked Whole Snapper, Tomatoes, Olives, Capers

PREP 15 MINS
|
COOKING 20 mins
|
SERVES 4

A whole baked fish may seem daunting to some but it's actually an incredibly easy dish and wonderful for a festive occasion to feed a crowd — you can throw it all in one tray, into the oven and serve straight to the table. And afterwards, as the dish is devoured, everyone can reach in to mop up the juices with crusty bread.

 

When it comes to finding a fresh fish, getting to know your local seafood monger will reward you time and time again. They can help you select a beautiful whole fish, and clean and scale it for you, like Nick at The Seafood Station in Fairfield does for me (ILY, Nick). For this recipe, you can also use two smaller 500-600g baby snappers, or even a baby barramundi, john dory or king george whiting - whatever is fresh and looks good! Serve alongside our green bean salad.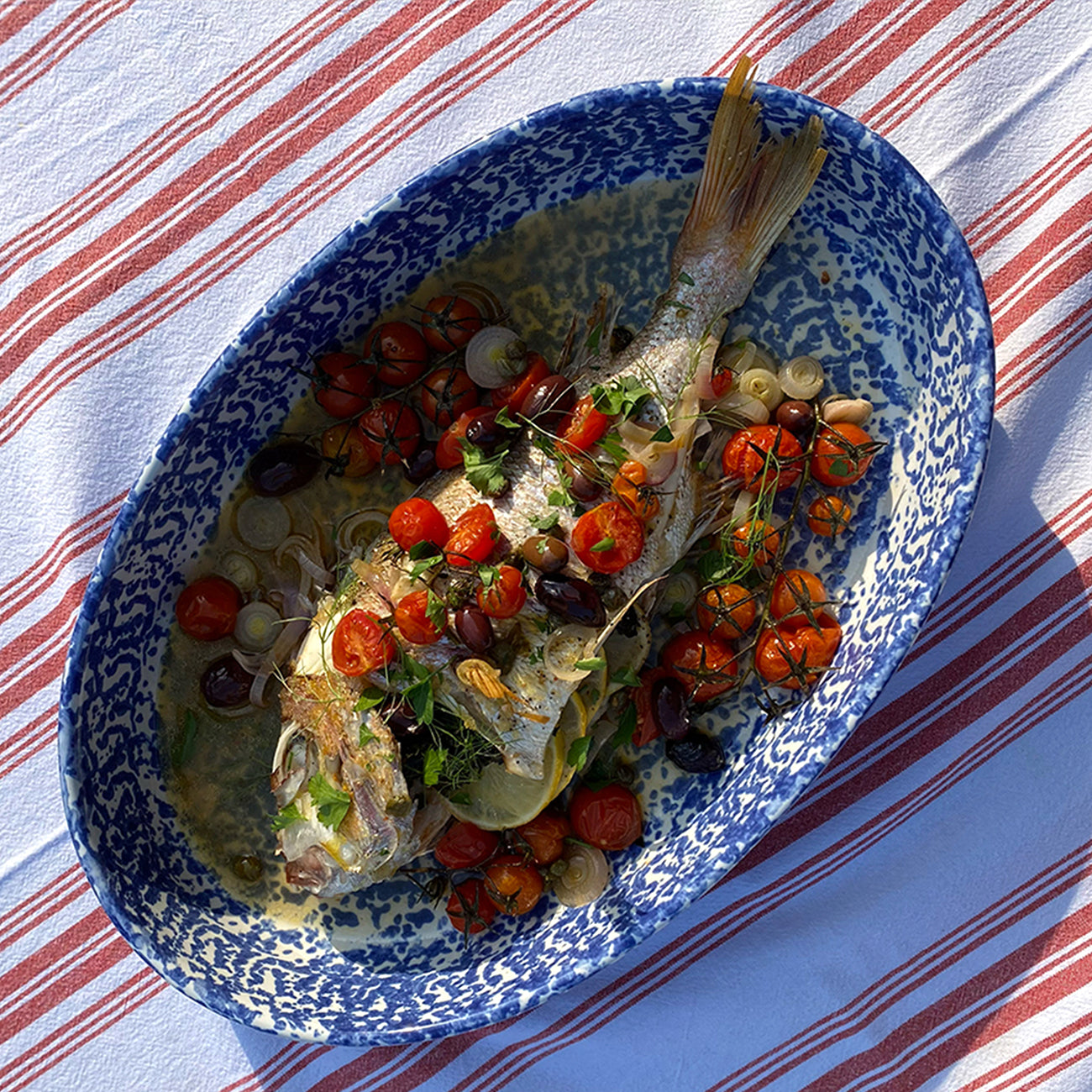 Ingredients
1.2kg whole snapper, cleaned and scaled
400g, cherry tomatoes on the vine
2 eschallots, sliced
½ cup Kalamata and Riviera olives, whole
1 tbsp capers
½ lemon, sliced
½ bunch oregano
Fresh soft herbs to garnish such as parsley, dill, oregano
White wine 
Extra virgin olive oil
Sea salt flakes
Pepper
Steps
To begin, pre-heat your oven to 220 degrees. 
Pat your fish dry with paper towel and season the inside cavity with salt. Fill the fish with about 4-5 lemon slices, and sprigs of fresh oregano. 
Arrange the eschallots in the centre of a large baking tray, placing the fish on top diagonally across. 
Place vine tomatoes in the tray surrounding the fish. Slice any tommies in half that have fallen off the vine. Scatter olives and capers over the tomatoes. Dress the fish and tomato olive mix generously with extra virgin olive oil, and season with a big pinch of sea salt and cracked pepper.
Pop into your hot oven, and set the timer for 10 minutes. After this time, open the oven, and splash a generous amount of white wine into the tray, and give it a shake about. Pop back into the oven for about another 15 minutes, or until the skin starts to crisp and meat is cooked through. To check if the fish is done, check near the neck - the flesh should come away easily. 
Serve straight to the table in the tray, or plate on a serving dish, topping the fish with tomatoes, olives, caper and juices. Garnish with fresh herbs - whatever you have on hand!