Vietnamese-style Grilled Beef & Green Mango Salad

|
30 mins
|
4 entree, 2 main

A fresh and zingy dish from Jessica Nguyen featured in her Food For Everyone poster. The Thai mango has slightly nutty and floral notes that work so well with the julienned carrot and crushed roasted peanuts for a vibrant salad.

Watch the video on how to make it here.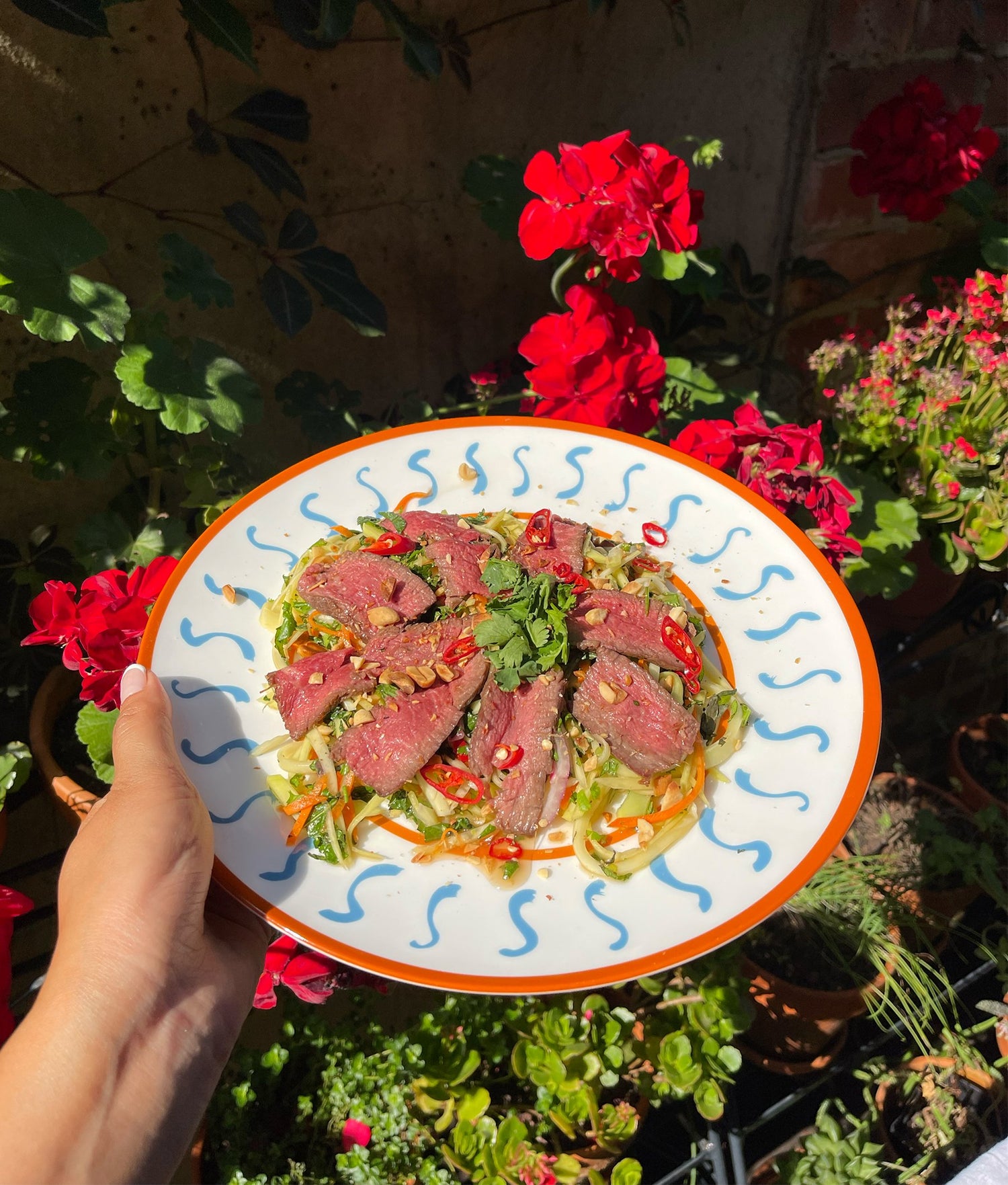 Ingredients
200g of eye fillet beef, Cape Grim preferred
1 teaspoon of chilli oil, Chilli Oil on Everything of course
1 tablespoon of olive oil
1 stalk of lemongrass, finely blitzed in a food processor
2 cloves of garlic, crushed or finely chopped
Pinch of salt
FOR THE SALAD:
1 Thai sweet green mango
1 carrot
1 bunch of your choice of herbs: coriander, mint, or vietnamese mint
1 fresh long red chilli
½ red onion, finely sliced
1 tablespoon of peanuts, roasted and crushed
FOR THE DRESSING:
1 disc (tablespoon worth) of palm sugar
1 tablespoon of fish sauce
Juice of 1 lime
Steps
Marinate your beef in olive oil, chilli oil, salt, garlic and lemongrass and allow to marinate for a minimum of 30 minutes or overnight.
Finely peel and julienne the green mango and carrot. Wash and roughly chop your herbs: coriander, mint and Vietnamese mint.
Finely slice your red onion and soak in water to remain crunchy. Finely slice your chilli.
Roast your peanuts in a pan on medium till golden. Remove from the pan, place into a mortar and pestle or into a snap lock bag and crush.
Make your dressing by placing the palm sugar and a tablespoon of water into a bowl in the microwave for 10 seconds or until melted. Add in the fish sauce and lime juice until you get a balance of sweet, salty and sour.
On a searing hot bbq or pan, cook your eye fillet 2 minutes on each side, medium rare.
Allow to rest for 5 minutes before finely slicing into thin strips.
Assemble your salad by tossing the mango, carrot, drained red onion, half of the chilli and herbs in the dressing. Arrange onto a platter and layer the slices of beef on top. Garnish with the crushed peanuts, remaining red chilli and a few herbs.