Summer Tomatoes with Toum by Baba's Place
"This recipe makes a big batch of toum and curry oil so you can have these tomatoes on repeat all summer long." — Jean-Paul El Tom, head chef Baba's Place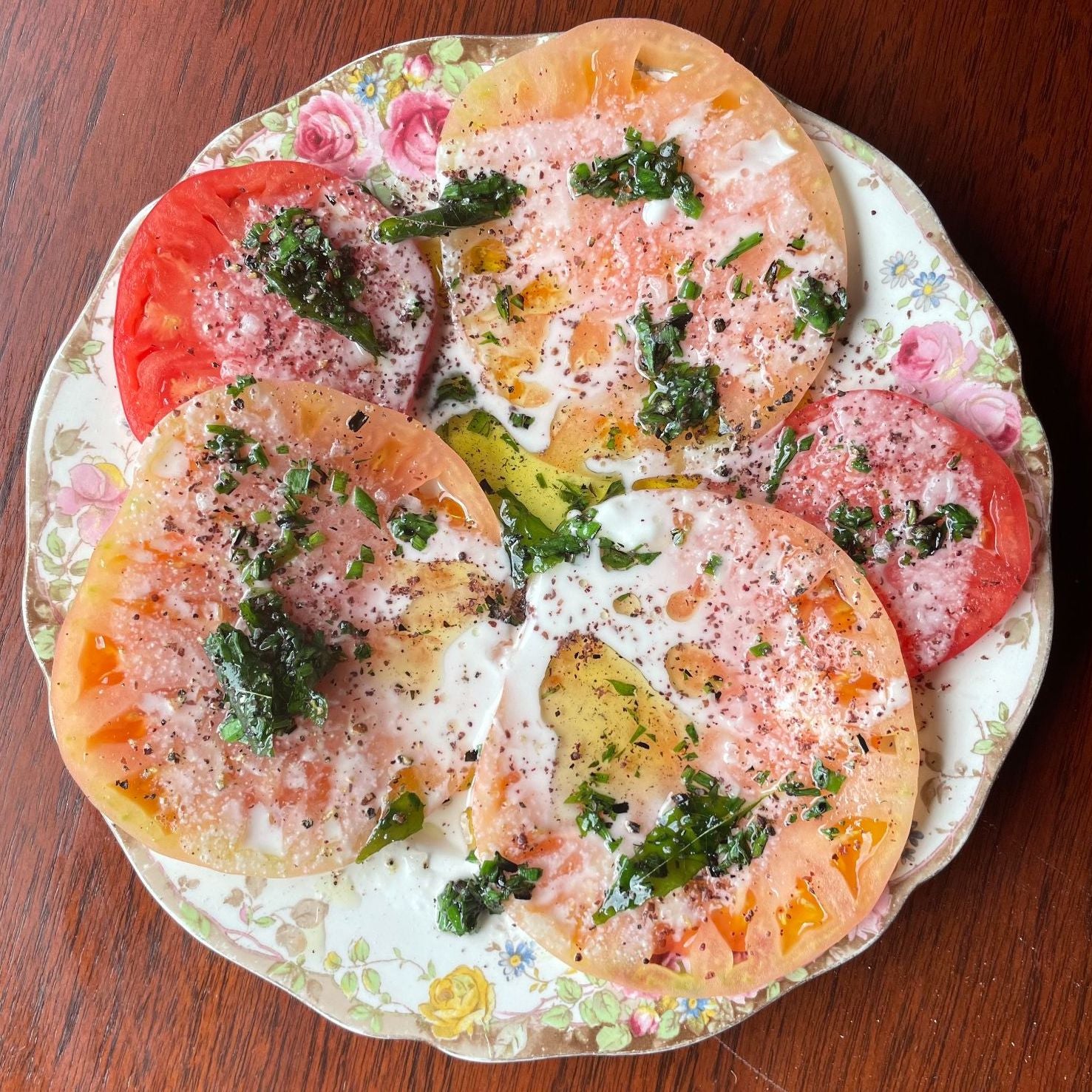 Ingredients
FOR THE TOMATO-SUMAC CONSOMMÉ:
- 600G RIPE TOMATOES
- 3G FINE SALT
- 50G SUMAC SEEDS
FOR THE CURRY OIL:
- 500G CURRY LEAVES
- 1L NEUTRAL OIL, FOR FRYING
- 1L NEUTRAL OIL, FOR STEEPING
FOR THE TOUM:
- 500G MINCED GARLIC PASTE
- 100G FILTERED LEMON JUICE
- 2.5L CANOLA OIL
TO PLATE:
- 4 LARGE DELICIOUS TOMATOES
- 2 PINCHES SUMAC
- FLAKY SALT
- BABA'S BEST EXTRA VIRGIN OLIVE OIL
- ½ BUNCH GARLIC CHIVES
Steps
For the tomato sumac consomme, blend tomatoes, salt and sumac seeds on high in a food processor or blender until smooth. Transfer to a container and let it sit for 30 minutes so the flavours can mingle, then transfer to the freezer. When ready to use, thaw over a cheesecloth into a bowl to get a clear liquid.
For the curry oil, heat oil in a saucepan until it reaches 160C. Fry the curry leaves until crisp and then transfer to your cold oil and let it steep for as long as possible at room temperature away from the sun. Once the oil is infused, strain the curry leaves from the oil.
For the toum, add minced garlic to a food processor and start to blend. Once it's getting smooth, begin to steadily stream in the oil. Not too slow as it will get too hot, and stop at the point where it has become nicely emulsified.
To make the toum vinaigrette, combine 400g tomato sumac consomme and 500g toum in a bottle or jar and shake to emulsify. Adjust the consistency with toum (thicker) or consomme (thinner) - you want the sauce to coat the tomatoes and slightly run across the surface.)
Blanche the garlic chives in rolling water for 30 seconds then transfer to an ice bath to halt cooking. Strain and dry the chives with a paper towel. In a hot pan, char the chives to colour them then finely slice and set aside in a small bowl. Pour over some curry oil, enough so that you can drizzle it over the tomatoes.
When you're ready to serve, slice your tomatoes nice and thick, laying them on a plate and garnishing generously with flaky salt. Cover with some of the tomato toum vinaigrette making sure all slices get some love. Garnish with the garlic chive curry oil, extra-virgin olive oil, and a sprinkling of sumac to finish.