Gray and Gray's Village Fowl

20 MINS
|
40 MINS
|
SERVES 4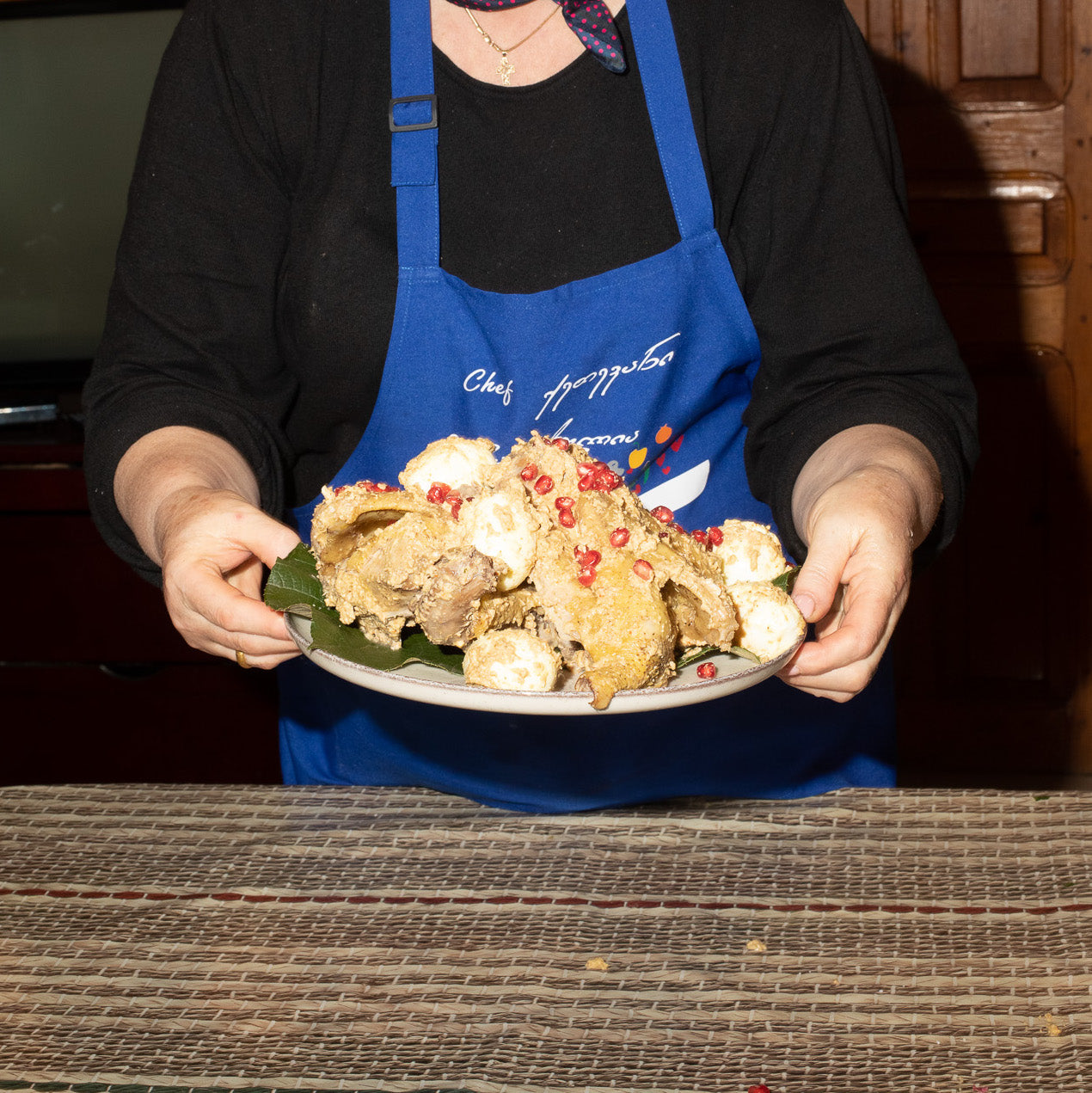 Ingredients
- 1 organic chicken
- 1L chicken or vegetable stock
- 4 eggs
- Pomegranate seeds, to garnish
FOR THE WALNUT PASTE:
- 400g walnuts, shelled
- 1 tsp blue fenugreek
- 1 tsp dried coriander
- 1 tsp chilli flakes
- 1 tsp ground marigold leaf (or a few threads of saffron)
- 1/4 tsp ground cinnamon
- 4 cloves
- 3 onions, medium diced
- 4 garlic cloves
- 150g oil
- sea salt
Steps
To prepare the chicken, cut through the back bone to butterfly it. In a large pot, bring the stock up to a boil and drop in the spatchcocked bird, simmering for 20 minutes.
In the meantime, bring a small pot of water to the boil, then gently drop in the eggs and boil for four minutes. Cool and peel the eggs.
While the chicken is cooking, prepare the walnut paste. Pound the walnuts in a mortar and then add the spices, onion, garlic, and a pinch of salt. Mix it all together and continue to pound in the mortar until the walnuts begin to release their oil. Pour some hot stock into the walnut mixture and stir to thin out. The texture of the walnut paste should be semi-smooth with walnut oil separating from the walnuts.
To serve, smear walnut paste all over the whole boiled bird and boiled eggs. Serve whole on a large platter, garnished with pomegranate seeds.