Fratelli Paradiso's Pistachio Pesto Strozzapreti

15 MINS
|
15 MINS
|
SERVES 4

From the kitchen of one of Sydney's best restaurants comes this decadent pistachio pesto pasta. You can use any pasta here but head chef Trisha Greentree makes it with strozzapreti, a short rolled pasta shape that is a joy to eat.

 

Photo credit - Nikki To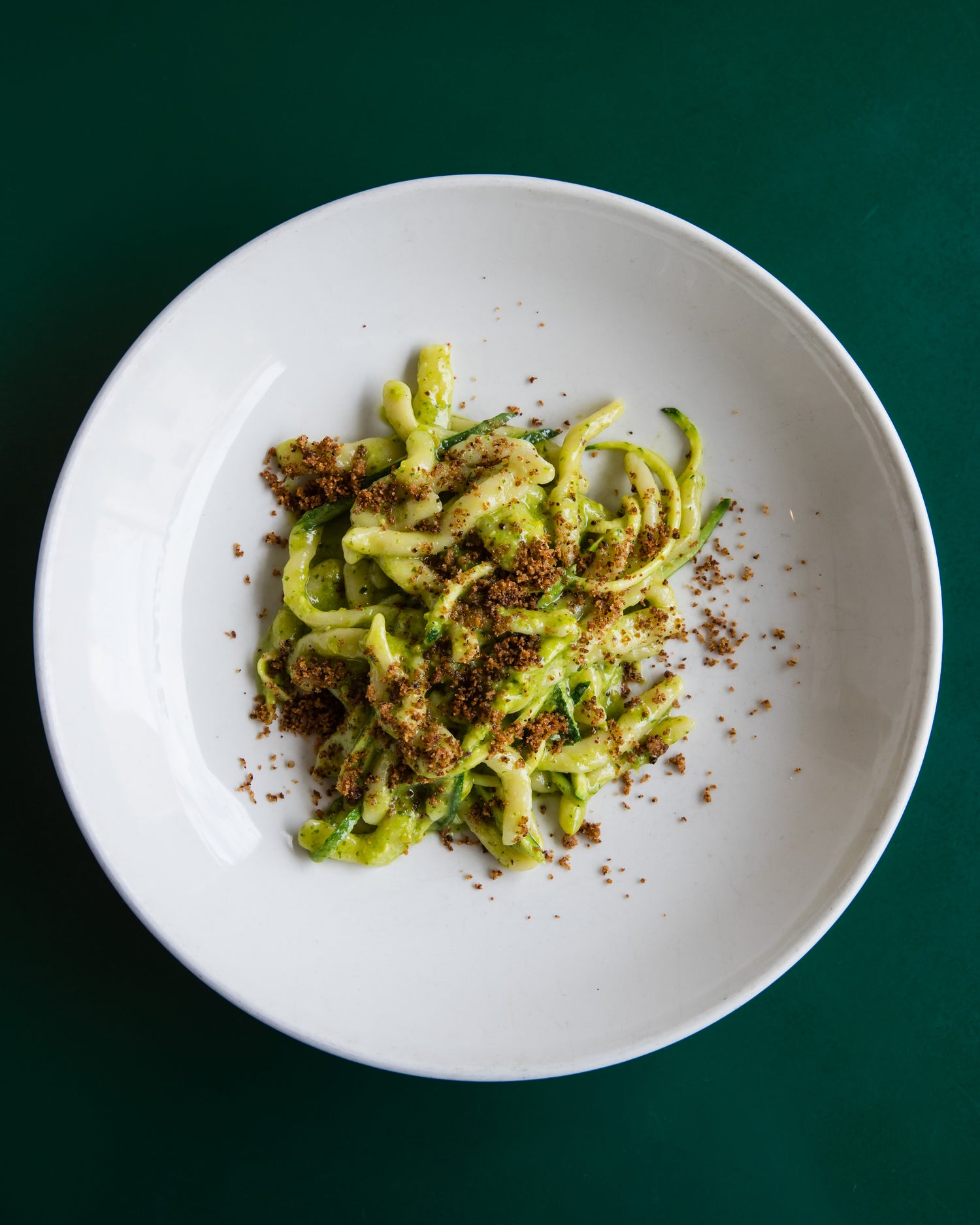 Ingredients
- 1 bunch basil, leaves picked
- 100g rocket
- 60g freshly grated parmesan
- 120G PISTACHIOS
- 50G BROWN RICE MISO
- 1 LEMON, ZEST AND JUICE
- 2 GARLIC CLOVES
- 2 GREEN ZUCCHINIS, JULIENNED
- ½ CUP PANKO BREAD CRUMBS
- KNOB OF BUTTER
- OLIVE OR GRAPESEED OIL (use a mix of the two if your olive oil is very peppery)
- 400-500g dried strozzapreti
Steps
Heat a glug of oil in a pan over medium-high heat and fry the breadcrumbs until golden brown. Transfer onto a paper towel and season with sea salt while it's still hot.
To make the pesto, place the basil, rocket, parmesan, pistachios, lemon zest, garlic cloves and miso into a food processor and start to pulse. Once it begins to break down, slowly drizzle in your oil until it brings the pesto together it's nicely emulsified. You want just enough oil to bring the ingredients together. Taste and season with salt and pepper
Bring a large pot of water to a boil and season generously with salt. Cook your pasta until just al dente.
When pasta is almost ready, save one cup of the pasta water first, then drop in your zucchini sticks for two seconds and then drain together.
In a sauce pan big enough for all the pasta, add your pasta water, butter, and pesto. Bring together on gentle heat and then toss pasta through for a whole minute until it all comes together and is nicely emulsified.
Season with your reserved lemon juice to taste. Serve with a generous sprinkling of pangrattato, extra parmesan, and a drizzle of olive oil.