Tuscan Gnudi (Ricotta and Spinach Gnocchi)

15 Mins
|
15 Mins
|
Serves 2

These spinach and ricotta gnudi from Pasta Grannies is what we'll be cooking on repeat this autumn. Finished off in a simple brown butter, nutmeg and sage sauce, this handmade pasta is a light yet warming dish, and surprisingly easy to make. Grazie Nonna Rosa for passing down this recipe!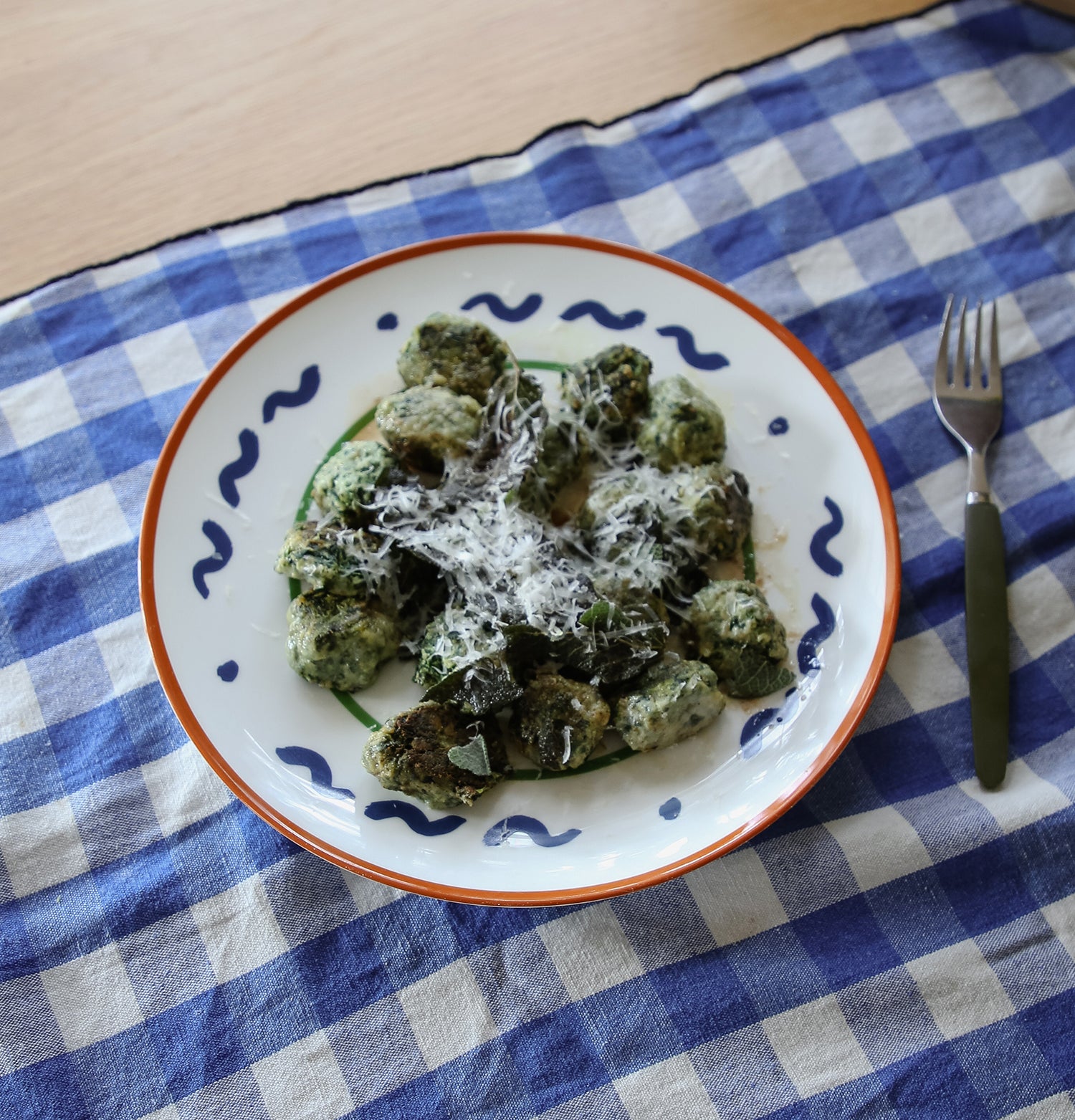 Ingredients
250 g cow's milk ricotta, drained weight

600 g spinach

25 g finely grated Parmigiano Reggiano

1 large egg, beaten

Plain flour, for rolling and dusting
salt
To Cook:
30 g unsalted butter

5 sage leaves

nutmeg
To SERVE: 2 tablespoons grated Parmigiano Reggiano
Steps
Place the ricotta in a sieve over a bowl and leave it to drain for an hour or so, then weigh out 250 g. Meanwhile, place the spinach leaves in a saucepan, turn the heat up to high and add 2 tablespoons of boiling water.
Cover the pan with its lid and steam the spinach until it has collapsed. Drain the spinach through a sieve and leave it to cool. Squeeze out as much water as possible and roughly chop.
You should end up with about 300 g cooked spinach. Mix the spinach with the ricotta, Parmigiano Reggiano and beaten egg. Season to taste. Make sure the ingredients are all playing nicely together.
Pour some flour into a bowl. Pinch off 20 g pieces of the mixture (about the size of a large walnut) and toss each one in the flour before rolling it between your palms to create a nice little ball. Dust off any excess flour. Place on a lightly floured board, away from each other so they don't stick.
Have a frying pan on one side of your stove, and a sauté pan on the other. Melt the butter in the frying pan with the sage and nutmeg and keep it warm while you cook the gnudi.
Fill a sauté pan with salted water and bring to a gentle simmer. Lower the gnudi gently into the pan and let them tremble in the water for 5 minutes, or until they bob to the surface. Use a slotted spoon to transfer them to the butter in the frying pan. You may have to cook the gnudi in batches.
Spoon the butter over the gnudi, then serve them with a shower of grated cheese over the top.